Karl Mapstone, the UAE Business Director at Visual Amplifiers (VAMP) is taking over The Urbanite. Read on to see what he has to say about social media influencers.
When you've got your event organised to a T, what is the most effective way to capture people's attention, build hype and awareness to drive attendance? Hands down, it's when their friends are all talking about it and a lot of this chat now happens on social.
In the cash rich, time poor world of Dubai, finding the most effective ways to influence people's decisions on how they spend their time is a challenge. Brands are constantly fighting for people's attention which is the most valuable asset in the digital world.
Digital word of mouth recommendations on social are powerful attention grabbers. There's a reason why 71% of consumers are more likely to make purchasing decisions from a social media reference.* This is where Influencers step in.
Influencers, particularly the power-middle, are taking the advertising world by a storm. Influencer Marketing is on a trajectory to boom into a $10 billion market by 2020**, with many brands seeing it producing the most effective ROI generating at least $6.50 for every $1 invested in Influencer Marketing.*
With their engaging social media content and carefully curated communities, mid-tier Influencers are a resource which brands are tapping into to reach customers who are disengaged from traditional media channels like TV and magazine. Dubai consumers just don't have time for products/services if they are delivered to them in channels they don't use or as content that they wouldn't engage with.
People actively seek out product recommendations from Influencers because they look up to them like they might a friend. Currently 83% of consumers trust digital word-of-mouth user-generated product recommendations more than content created by advertisers.***
The mistake brands often make is in engaging one single celebrity Influencer to promote a product or event who might not have the best quality content or the most engaged audience. Brands who choose to engage with a collective of high quality power-middle, or mid-tier, Influencers will hands down see the best results from their campaign.
Unlike other Influencer platforms and agencies, VAMP's collective of Influencers is invite-only. Each individual is selected on a range of strict criteria. Authenticity, quality of content and engagement are always prioritised over number of followers.
The success of an Influencer Marketing campaign absolutely comes down to careful planning and execution. The recent Fyre festival disaster could be the step by step guide on how not to undertake Influencer Marketing.
The campaign we ran for Dubai's largest EDM music festival, Smirnoff Sound Collective, highlighted the value of Influencer Marketing when done right. This is one of the largest global campaigns on the Smirnoff calendar – which has now had over 25 million media impressions on digital alone, with VAMP being a core element to its success.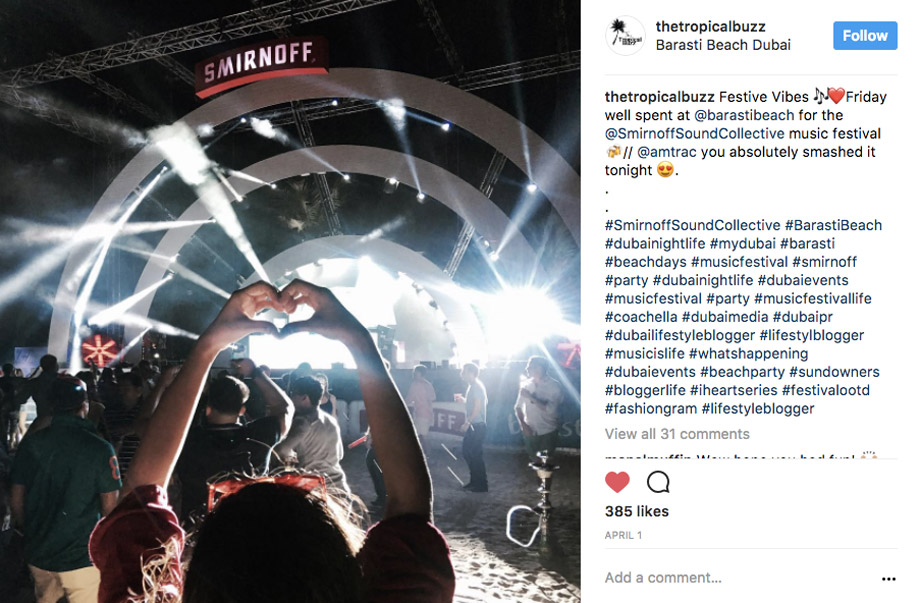 Image Credit: VAMP Content Creator @thetropicalbuzz
Smirnoff leveraged a collective of authentic power-middle VAMP Influencers to produce high quality content in the lead-up and during the Sound Collective event to create hype, build brand awareness and drive foot traffic.
It all comes down to authenticity. All VAMP campaigns are on an opt-in basis and we encourage our Influencers to only work with brands they truly believe in. This might mean saying no more than yes to briefs but brands should know it's nothing personal. Our talent are sophisticated marketers in their own right and the last thing they want to do is damage the trust their followers have in them by creating content that is inauthentic to their personal narrative.
Drawing from our knowledge of working on hundreds of Influencer Marketing campaigns with brands like Samsung, MasterCard, Versace and Unilever, we help with the creative strategy so that they get the most out of their campaign, whether that's an event, a product launch or brand awareness.
It's all about being front of mind in today's digital world. Rather than just ticking the Influencer Marketing box, the most digital savvy brands are incorporating Influencers into their ongoing marketing strategies, working with a range of mid-tier (rather than celebrity) Influencers on carefully executed campaigns to share high quality content with an engaged audience.
Team Urban loved collaborating with VAMP on Smirnoff Sound Collective so reach out if you'd like to learn more about how a VAMP (http://visualamplifiers.com/) led Influencer campaign can assist in supporting your next event.
*https://www.ion.co/essential-stats-for-influencer-marketing-in-2017
**http://visualamplifiers.com/influencer-marketing-billion-dollars/
***http://www.mavrck.co/user-generated-content-drives-more-engagement-than-brand-generated-content-on-facebook/
---